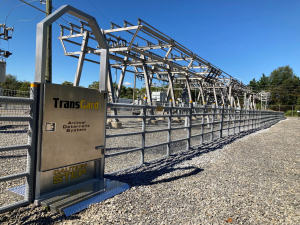 It's intended to limit animal interference with electrical equipment.
Williamsport, MD (KB) Potomac Edison has installed a new fence around a Frederick County substation in Urbana to limit animal disruption with electrical equipment. That's according to spokesperson for Potomac Edison Will Boye.
"What it does is it protects that equipment from animal interference," said Boye. "Other than severe weather, animal interference is one of the main causes of substation outages."
Boye said the fence is intended to keep out squirrels, racoons, cats, snakes, and other animals that can crawl into the substation.
"When they come into contact with the equipment, it's obviously not good for the animal and it can cause some damage to insulators or other equipment and it can be costly and take some time to repair, so this is a very cost-effective and humane way for us to prevent that problem," explained Boye.
Boye said the fence surrounds the 650-foot substation perimeter.
"It gives them a little 'zap,'" said Boye. "It doesn't hurt them, it's just enough to let them know that this is not a good place for them to be climbing."
Potomac Edison has installed the fencing at 19 substations across Maryland since 2014.
"It's been a very effective solution for us and we've been doing this for several years and we've seen a real decline in substation outages due to animal interference," Boye said. "It's something that has worked well for us and I think we'll continue using it."