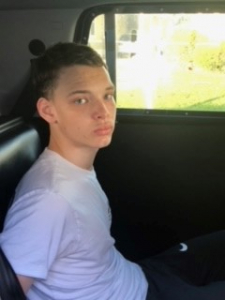 Suspect arrested in Florida.
Frederick, Md. (DG) – A 17-year-old has been arrested for the shooting death of a Hagerstown man over the weekend.
Hagerstown Police are reporting Gage Coles has been arrested for first-degree murder in the death of 27 year old John Leonard IV. Coles was apprehended in Manatee County, Florida this morning at around 8 AM.
Detectives also executed search and seizure warrants at two homes in Hagerstown and collected evidence in the shooting including a handgun.
On Saturday around 7:30 p.m. Coles fatally shot Leonard on N. Mulberry St. and seriously wounded 22-year-old Jaseye Stephens.
Stephens was flown to Shock Trauma in Baltimore to be treated for life-threatening injuries.
Coles is being charged as an adult. He's also being charged with first and second-degree murder, attempted first and second-degree murder, and first and second-degree assault.
Coles is being held in Florida awaiting an extradition hearing.