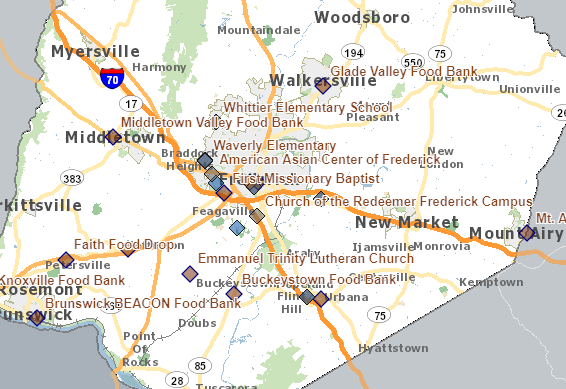 FeedingFrederick.com now has an interactive map.
Frederick, Md (NS) Feeding Frederick was created in June to help Frederick County residents find resources to end food insecurity.
The website provides both resources to get food as well as ways to help donate and volunteer.
Now the site has a feature to help people locate where and when they can get food.
"You can go to a map that was put together by our staff in Frederick County Government, and you can type in your address, and it will tell you the food resources that are nearest to you," said Frederick County Executive Jan Gardner.
She added that the map also gives details such as when the food is available.
"The map also describes if it's a box of food, or if it's a hot meal, or if you can go and choose your own food, or if the box is already pre-made," said Betsy Day, CEO of The Community Foundation of Frederick County.
She said based on your needs, you can find the food that is best for you.
The map also shows what types of public transportation are nearby to help people plan how to get the food.
Day said the needs of Frederick County have changed during the pandemic.
"The Community Foundation did a needs assessment in 2018-2019 and food insecurity was not listed as one of the greatest needs because we already had a robust system of food pantries and food networks within Frederick County," said Day.
Gardner said the need for food grew during the pandemic as people lost jobs and reduced working hours.
She said during that time, food services to seniors increased by 600%.
FeedingFrederick.com was created in partnership with Frederick County Government, the Community Foundation of Frederick County, and the Ausherman Family Foundation.