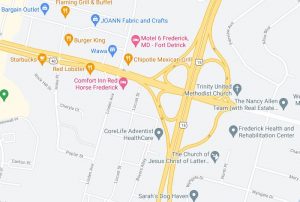 A witness said he was walking on the lane divider.
Frederick, Md. (NS) – A man was struck and killed while walking in the middle of the roadway early Friday in Frederick County.
According to Maryland State Police, around 2:26 a.m, troopers responded to the vicinty Rt 15 southbound and Rt 40 for a report of a vehicle collision with a pedestrian.
A witness told authorities that a man later identified as Jerome Martin Jr was walking along southbound Rt 15 when he was struck by a 2016 Chevrolet Trax.
EMS pronounced Martin dead at the scene.
The driver of the Chevrolet stayed at the scene and cooperated with police. Troopers said the driver was not intoxicated.
After their investigation, police fully reopened the road at 4:40 a.m.
Anyone who has information on the collision is asked to contact Maryland State Police.