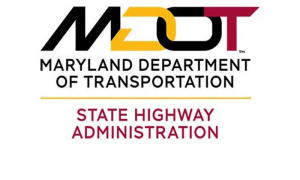 It's a campaign to encourage drivers to 'move over' for highway workers assisting motorists.
Baltimore, Md (KM) Between now and Sunday, November 14th, Maryland and the rest of the country are observing Crash Responders Safety Week. The Maryland Department of Transportation's State Highway Administration (SHA), the Maryland Transportation Authority (MDTA), MDTA Police, and the MDOT Motor Vehicle Administration's Maryland Highway Traffic Safety Office are urging drivers to remember the state's Move-Over Law.
Charlie Gischlar with SHA says when drivers come upon a vehicle crash along a highway where a police officer, medic or tow truck driver may be assisting motorists, or helping a motorist whose vehicle is disabled, they need to reduce their speeds. "They call the interstate highways their office, :" he says. "So it's important that we want people to really adhere to that Move-Over Law."
"When you see the amber light, and the first responders, you have to move over," Gischlar continues. "And if it's unsafe to move over, then slow down through these areas where these responders are handling incidents on the highways."
He says moving over, or slowing down can literally make the difference between life and death. "We did have a crash responder for one of the tow companies that was unfortunately involved in a very serious crash on I-70 and Marriottsville Road not long that resulted a fatality. So that's one person that's not going to be going home that night," says Gischlar.
The Maryland State Police say that tow truck driver was changing a tire for a motorist before he was struck and killed.
SHA says there have been 68 crashes since 2016 at sites where MDOT SHA first responders who were responding to traffic incidents, including five crashes so far this year. Also, the agency says nationally, 23 highways workers and one law enforcement officer on average are killed each month while working crash scenes. AAA says one tow truck driver on average is killed alongside a roadway every six days.
Gischlar says part of Crash Responders safety week is to educate the public on the important of safe driving, especially when coming upon a crash or roadside assistance to motorists. Part of the effort will include social media as well as traditional media. "A lot of people get all of their news and information and data from social media channels so we use that quite often," he says. "So does our sister agency at the Maryland Transportation Authority, the Maryland Motor Vehicle Administration, and, of course, our partners with the Maryland State Police. We're all in this thing together."
These agencies are using all communications channels necessary to get the word out about moving over along a highway when you come upon first responders assisting a motorists following a crash, or for a disabled vehicle; or slowing down if that's not possible. "There are people who will not do that. Every year, we have somebody's who injured, had a close call. I should say every week almost, we have people go flying by these workers trying to help and assist the motorists," says Gischlar.
For more information on Maryland's Move-Over Law, go on to line to www.road.maryland.gov.
By Kevin McManus