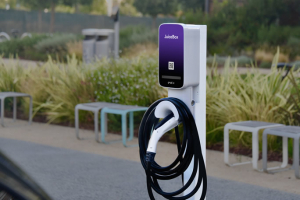 It would prohibit non-electric vehicles from parking in spaces reserved for electric vehicles.
Frederick, Md (KM) Testimony was taken Tuesday night by the Frederick County Council on an amended version of a bill to prohibit non-electric vehicles from parking in spaces reserved for electric vehicles which are charging up.
The legislation sponsored by Councilman Kai Hagen was amended following a public hearing. He says two changes were made to the bill. "One of which was to define the intent of the space. But no longer make it a violation if the vehicle is not necessarily plugged in or using it at that moment," he says.
Another amendment removed the weight requirement for EV's.
Lynn Parsons from Bethesda is an EV driver, and she testified against the bill, noting that it only covers county-owned property. Parsons said it would be better post signs at EV charging stations stating it's illegal for non-electric vehicles to park there, and violators could be fined. "What we need is a scenario where people–reasonable people–when they pull up to a spot–very much like the handicapped spaces–it's so clear what that parking space is intended for; that they don't' violate those rules," she said.
Parsons said it could be done using the county's current parking regulations.
Lanny Hartman from Columbia, also an EV driver, agreed with those comments. "Once we get signs up, people don't know there's a law or not," he said. "But we have clear, concise signs that say 'no parking except for electric vehicles charging,' and that seems to work."
The Council is expected to take a vote on this bill at a later date. Hagen says this legislation will prepare the county for the expected surge in electric vehicles over the next few years.
Redistricting
The Council was also presented with a proposed redistricting plan. The proposal was drafted by the Redistricting Commission set up by the Council to adjust the lines of the county's five districts following the 2020 Census.
Chairman Jim Racheffl said the panel agreed to relocate the Libertytown, and the Unionville/Linganore Grange Hall Precincts form District Two to District Five. He said this is in keeping with the Commission's charge given by the Council earlier this year. "And we will meet the criteria of being able to have districts that are substantially equal in population,": he said.
Councilman Steve McKay, who represents District Two, support the change. "I think you came up with a very clean, very straight forward, and I'll even call it's elegant in its simplicity that satisfies all the criteria that you were charged with satisfying,:" McKay said. "So I think you did a wonderful job there."
Racheff was also asked if the Commission considered voter registration when drafting the Council Distinct Lines. "We did have a small conversation because it had been brought up in other comments in looking at voter registration," he said. "Frankly, we felt that it wasn't appropriate to the charge."
The Council is expected to hold a hearing on the plan on Tuesday evening, November 30th.
Council President MC Keegan-Ayer said the Council will need to take a vote on the plan sometime in December, or the plan presented by the Commission automatically goes into effect. The 90-day period for the Council to take action began at the Tuesday, November 9th meeting, she said.
By Kevin McManus