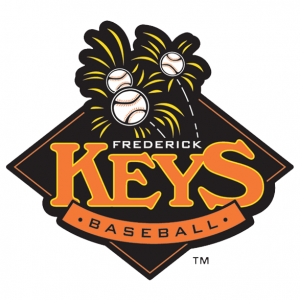 The team will play 40 home games next summer.
Frederick, Md (KM) The 2022 home game schedule for the Frederick Keys has been released. "The season is expanding and so we're going to have 40 home games where last year we only had 34 home games," says General Manager Andrew Klein. "We're going to have more opportunities for people to come out and enjoy games here at Nymeo Field."
The first game is Thursday, June 2nd, when the Keys meet the Trenton Thunder. Klein says the first half of the season will feature draft-eligible players. it will end on July 16th. There will be a mid-season break for Major League Baseball's All Star Game.
Play will resume at Nymeo Field on July 22nd, and will feature professional players who have exhausted their amateur eligibility, or may wish to begin their professional careers. The second half of the season will end on September 6th.
Last year, the Frederick Keys joined the Major League Baseball Draft League, after many years as an affiliate of the Baltimore Orioles. Klein says it worked out well for the Keys. "We were extremely fortunate that the community continued to support us the way that we had always been,": he says. "Obviously, there are some fans who are die hard Oriole fans. It was a little bit of a tougher situation for them in terms of realizing that we are not specifically affiliated with the Orioles any more."
But fans continued to come out. Harris says over 125,000 fans came to the stadium last year, and the average attendance was 4,000 fans per game.
Even without the affiliation with the Baltimore Orioles, Klein says fans got a chance to see up and coming players who went on to the Major Leagues. "We had 11 guys that were either drafted or signed a contract with a major league team that played for the Keys last year," he says. "So now we've got guys not only in the Orioles system, but people who are in the Dodgers system, the Tampa Bay Rays system, the Houston Astros. So it's kind of exciting in that sense."
It's been said that baseball's fan base skews a little older, with many fans in their 50's, 60's and 70's. But Klein says that's not necessarily the case with the Frederick Keys. "The average age of the baseball fan is probably a little bit older. But at our level, which we consider the minor league level, our main fan base that comes out is the young families. It's the people who are looking for a night out or looking for something do in town that's affordable and a family friendly opportunity," he says.
Fans can purchase or renew ticket plans for the 2022 season by calling 301-815-9900.
By Kevin McManus