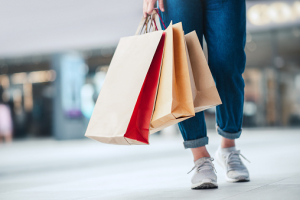 But supply chain issues could play a part.
Annapolis, Md (KM) The holiday shopping season could be a very profitable one this year for retailers. "We're actually predicting the highest sales on record ever for this year," says Caliey Locklair, President of the Maryland Retailers Association. "And the numbers were looking are somewhere between an 8.5% and a 10% increase which I think will be surprising for folks."
Locklair says a lot of it is due to pent up demand by consumers following last year when the nation was dealing with the COVID-19 pandemic. "And it also impacted by consumers spending less on travel experiences and dining out," she says.
But Locklair says retailers are also concerned about supply chain issues, and whether they will have enough products in stock for sale to consumers. "Not only do you have the congestion with shipping on the west coast, but the increasing consumer demand, the workforce shortage, rising costs such as minimum wage, wage compression issues. And then you're seeing inflation go up as consumer spending goes up," she says.
And these concerns may last beyond the holiday shopping season. "It's a very interesting period of time that quite frankly is going to have residual affects much longer than people are actually realizing," says Locklair. She also advises consumers to shop early as the gifts they want may be in short supply.
In past years, traditional retailers have been challenged by a number of consumers doing their shopping on line. But this year, Locklair says customers will also be shopping in brick and mortar stores as well as on the internet. "People are going to be spending on line. But they plan on shopping in independent stores too. So we saw some major changes that where consumers were saying they were going to spend their money this year," she says.
While retailers are worried about supply chain issues and keeping their shelves stocked, Locklair says there's also concerned about the weather and impact on customer traffic.
By Kevin McManus