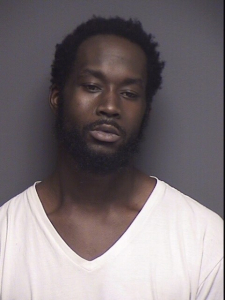 The Frederick man is charged with 1st-degree murder and other offenses.
Frederick, Md (KM) The defense is expected to continue presenting its case this week in the 1st-degree murder trial of Jordan Hooks, 29, of Frederick. He is charged with the shooting death last year of Jaemari Anderson, 19, of Frederick last year.
State's Attorney Charlie Smith says the prosecution has rested its case, and the defense is presenting its case to the court.
Last Friday, Tynora Coleman was called to the witness stand. Smith says Coleman testified that Hooks, Anderson and others were in basement at Hooks' home in the Waterside community in September 2020 when an argument developed. Both Hooks and Anderson agreed to settle it in a fight outside of the home. "More importantly, Coleman did state that Jordan Hooks pulled a handgun from under the couch, stuffed it in his waistband right before they went outside," says Smith.
He said Coleman reaffirmed that she saw Hooks put the weapon in his waistband. "Interestingly enough, the defense on re-direct, tried to tell the jury or basically prove that she was hallucinating on Molly at the time that she saw Jordan pulling the handgun out. Her responsive was emphatically no. 'I was not hallucinating and I did remember it.," Smith recounts.
Smith says this testimony is important. "Critical piece of evidence in the 1st-degree murder trial of Jordan Hooks putting a handgun with him on that evening, having him tuck it in his waistband," he says.
The trial is in its fourth week. Smith hopes both sides can present closing arguments later this week. Then the case goes to the jury for its deliberations.
Two other suspects have been charged in connection with Anderson's murder. Brian Henry of Clarksburg pleaded guilty in October to being an accessory after the fact in a 1st-degree murder, and will be required to testify in court against the other two defendants. Daniel Flythe's trial is expected to begin next year.
By Kevin McManus