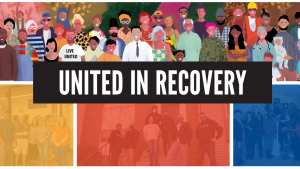 It's an effort to help families financially impacted by the pandemic.
Frederick, Md (KM) The "United in Recovery" campaign has been launched by the United Way of Frederick County. Ken Oldham, President and CEO, says it's an effort to help those suffering financial hardships due to the COVID-19 pandemic.
"In short, these are families who are unable to afford basic necessities for basic cost of living in Frederick County," Oldham says.
In addition to distributing contributions to local non-profit organizations, Oldham says United Way will be providing direct assistance to families in need, such as matching savings to purchase a home, free tax preparation assistance; credit counseling and budget coaching. There's also a program to help these families purchase a used car so members can get to and from work.
"ALICE families have been disproportionally affected the pandemic," says Oldham. "Disproportionally affected by both the health consequences, and definitely the economic fallout from the virus." He says that would include family members who lost a job as the economy slowed, and are having difficulty paying rent, and buying groceries and other needs.
ALICE stands for Asset Limited, Income Challenged, Employed.
Part of the job of the local United Way is to conduct research, such as the COVID-19 impact survey, and provide that information to local government and business leaders.
Oldham also says the pandemic has created two societies: those who were mostly unscathed by the pandemic due to their ownership of properties and stocks. And those who have suffered economic hardships. "These individuals are without assets and without those wealth building mechanisms," he says. "And also with limited income subject to not being able to afford groceries and not being able to afford rent at the end of the month because their working hours have been affected."
Anyone who wants to help out with this campaign can go on line to www.unitedwayfrederick.org.
The "United for Recovery" campaign ends on November 30th. But Oldham says any contributions for this campaign which are received after that date will be greatly appreciated.
By Kevin McManus