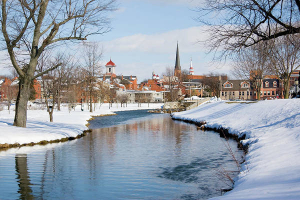 Aldermen expected on Thurs. on contract to purchase of rock salt.
Frederick, Md (KM) With winter on the way, that means the possibility of snow. and ice accumulating on the roads. Frederick Mayor Michael O'Connor says the city is getting ready for the first signs of winter precipitation.
In a recent appearance on WFMD's "Morning News Express," O'Connor said the city does not have personnel whose only duties are clearing the snow and ice off the roads. Instead, he says, the city uses staff from Parks and Recreation, Public Works and other departments to drive the snow plows.
"It's why, particularly during the height of the pandemic a year ago, how we kept our employees safe and healthy, was critical because when those operations kick in, we have to make sure we're able to respond," the Mayor said.
On Thursday, the Board of Aldermen is scheduled to vote on a $220,000 contract with the Morton Salt Company for the purchase of rock salt, which is used to remove salt and ice from city streets. The City of Frederick will be using a contract with Montgomery County which brings the cost down to $69.66 per ton.
The Aldermen are also scheduled to vote on a contract with Houck Construction, LLC, to remove snow from the city's parking decks and the city's parking lots.
When the city of Frederick is expected to get snow or other winter precipitation, the Mayor can declare a state of emergency after receiving information and guidance from a team of city employees who are focused on snow removal and the safety of citizens. When that happens, residents, visitors and businesses must move their vehicles off of designated Snow Emergency Routes within a two-hour prior from when the state of emergency becomes effective. This will make it easier for snow plow crews to remove the snow from the roads, and for emergency vehicles to respond. Snow emergency routes are marked with signs. The list can be found at cityoffrederick.gov/snow.
Private property owners are advised to wait until the snowfall ends and the streets have been plowed before removing snow from their driveways and sidewalks. The city also says please do not blow, push or shovel snow back into the streets.
Officials also say property owners are responsible for clearing snow from sidewalks around their properties within 12-hours after the snowfall has ended. Failure to do so could resutl in fa $100 fine, and covering the costs to the city of removing the snow from their properties.
Report any low hanging or downed power lines in your neighborhood by calling 1-800-686-0011. Call Potomac Edison for electric outages at 1-888-LIGHTSS (544-4877} Downed trees which do not involve power lines can be reported by calling 301-600-1440.
Make sure you keep a three-foot area around all fire hydrants, say city officials.
If you're using a generator during a storm, keep it dry and under an open canopy structure. Do use it in a partially enclosed area. It's strongly advised to place carbon monoxide generators inside your home to detect any CO which enters into the house.
By Kevin McManus