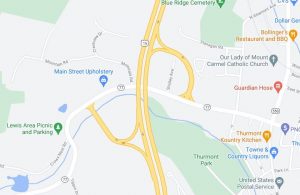 During construction, the bridge on Rt 15 over Rt 77 will be reduced from 2 travel lanes to 1.
Thurmont, Md. (NS) – Beginning Friday, a bridge on Route 15 in Thurmont will be down a lane until spring 2023.
Maryland State Highway Administration Media Relations Manager Sherry Christian said the bridge over Route 77 needs to be rehabbed.
"This bridge was built in 1957 and so it's nearing the end of its service life," Christian said.
She said the work could cause traffic delays.
"So drivers on that area, Northbound Route 15, they will see a reduction from 2 travel lanes to 1," said Christian.
She said exit lanes for Route 77 will remain open during construction.