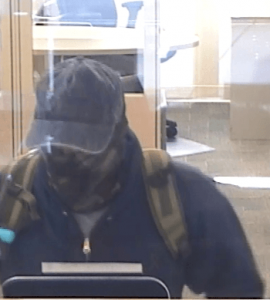 The M & T Bank robbed on W. 7th St.
Frederick, Md. (DG)- Frederick City Police are asking the public's help to try and identify the man responsible for an armed robbery of the M & T Bank on W. 7th St.
Officers responded to the bank just before 3 PM. Authorities say a white male with a camouflage facemask and dark ball cap robbed the bank. He was wearing light colored jeans and a tan backpack.
Police are asking anybody with information on this robbery, or video of the area to call 301-600-TIPS.
-Dianah Gibson