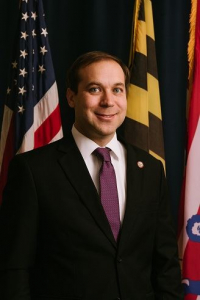 He says he filed his paperwork on Thursday.
Frederick, Md (KM)  Incumbent Frederick County Councilman Phil Dacey is running for re-election. He says he filed his paperwork on Thursday.
In a statement, Dacey says he's often been in a minority, but has been a "consistent voice" for taxpayers against "unsustainable budget growth,": and will continue to push for fiscal restraint. "We can't keep spending money like we have been," Dacey says in his statement.
He also says he will be a "strong voice" for road expansion for Route 15 and Interstate 270.
On other issues, Dacey says he's repeatedly voted to freeze taxes, and against county spending. In addition, he says he supports law enforcement and supports transparency and independence for the County Council
Dacey served one term on the Frederick Board of Aldermen, and has been an at-large member of the County Council since 2018. He's running as a Republican.
By Kevin McManus