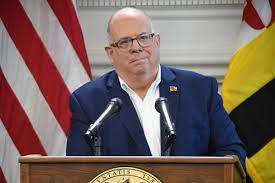 He says this is not t he end of this process.
Frederick, Md (KM) During a news conference on Thursday, Governor Larry Hogan (R) vetoed a Maryland Congressional map passed this week by the General Assembly. But the Legislature immediately overrode the veto.
The Governor called the map "anti-democratic" and ":gerrymandered." "This Congressional map drawn in back rooms by party bosses in Annapolis makes a mockery of our democracy," he said. "And it's an embarrassment to all that our state stands for."
Speaking with reporters, Governor Hogan said the map drawn by the Maryland Citizens Redistricting Committee which he appointed, consisting of three Democrats, three Republicans and three unaffiliated voters, was more fair, and received a "A" rating form the Princeton Gerrymandering Project. "These terrible maps drawn by the Legislature have been universally panned and have received a flunking 'F' grade from the Princeton Project," he said.
The General Assembly put together Legislative Redistricting Advisory Commission which came up with the map Hogan vetoed. It makes it more challenging for the state's lone GOP Congressman, Andy Harris, to hang on to his seat.. Democrats currently have a 7-1 advantage in membership in the House of Representatives.
At his news conference, Hogan noted that US Attorney General Merrick Garland is suing the State of Texas over its Congressional Redistricting map. "The map passed by the Legislature here in Maryland is a far more egregious civil rights violation than the Texas map," he said. "So today we're calling on the Biden Administration to immediately add the State of Maryland into that lawsuit," he says.
Democrats who control the General Assembly say the map has been improved through a transparent process.
Even though his veto was overridden, Governor Hogan says it's not the end of the process because this Legislative map will be challenged in court. "These maps cannot and will not stand," he says.
By Kevin McManus