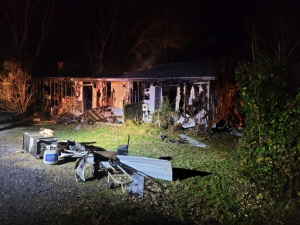 Homeowner treated for smoke inhalation.
Knoxville, Md (KM) Damage totals $160,000 to a modular home in Washington County which caught fire early Saturday morning.
The Maryland State Fire Marshal's Office says fire fighters were dispatched at 1:23 AM to 2142 Boteler Road in Knoxville for a house on fire. They spent 45-minutes bringing the flames under control. The homeowner was treated at the scene for smoke inhalation. No other injuries were reported.
Officials consider the house a total loss. The Red Cross is assisting the family.
The fire originated in the back interior living room. The cause remains under investigation, but deputy fire marshals say they are not ruling out electrical failure from a floorboard heater to an electrical outlet.
investigators also say the home had a smoke alarm, but it was not operating.
"Working smoke alarms are critical to preventing serious injuries and death in the case of a house fire," says Maryland State Fire Marshal Brian S. Geraci. "It only takes a couple of extra minutes to push the test button on a smoke alarm or a CO {carbon monoxide} alarm to ensure it's working. That extra minute or two could save your life one day."
Kevin McManus