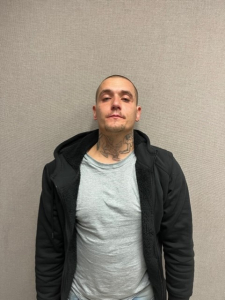 He's also wanted in a series of commercial armed robberies in several states.
Frederick, Md (KM) Frederick Police have filed charges against a Potomac man for a bank robbery earlier this month. Rickley Senning, 32, is charged with armed robbery, robbery, illegal possession of a firearm, 1st- and 2nd-degree assault, and theft between $100 and $1,500.
These charges are for the December 2nd holdup of the M&T Bank on West Seventh Street. On that day, police say a suspect went into the bank, displayed a handgun and demanded money. . He got away with an undisclosed amount of cash
Montgomery County Police say a similar robbery occurred that same day at a bank in Potomac.
Senning was arrested the next day in Washington DC driving a stolen vehicle from Florida.
Authorities say Senning is wanted for a series of commercial armed robberies between October and December spanning six states.
Also arrested with Senning was Jeann Willis, 35, of Gaithersburg, who has outstanding warrants in Virginia and Florida. She was not charged in the Frederick bank robbery.
By Kevin McManus