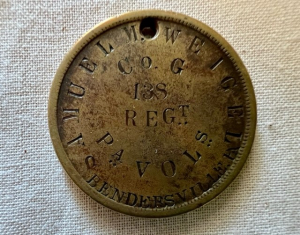 It will part of the Monocacy National Battlefield museum collection.
Frederick, Md (KM) A rare ID .tag from a Civil War soldier has been added to the museum collection at the Monocacy National Battlefield. It was donated to the National Park Service by the Monocacy National Battlefield Foundation.
It's a small bronze disk with the name of Samuel Weigel who was a private in the 138th Pennsylvania Infantry. Weigel was severely wounded at the Battle of Monocacy in 1864. He survived his injuries and lived until 1925.
"It is amazing that after 157 years, this ID disk is returning to the battlefield," said Andrew Banasik, Superintendent of Monocacy National Battlefield, said in a statement. "This small piece of metal is a tangible reminder of the price paid by so many to save Washington."
Before the military issued standard identification tags, or "dog tags," soldiers had to find their own ways of ensuring that their bodies could be identified if they died in combat. Some soldiers marked their belongings, and other purchased small metal tags with their name and regiment.
The Battle of Monocacy fought on July 8th, 1864 is considered the battle that saved Washington. Although a Confederate victory, it delayed the Southern Troops' advance on Washington so that enough Union soldiers could be put in place to defend the Capital City.
By Kevin McManus