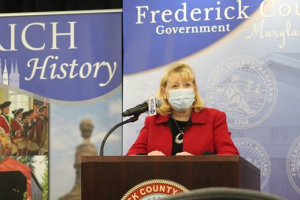 Jan Gardner said the community came together to get through the pandemic.
Frederick, Md. (NS) – In a pre-recorded State of the County Address, Frederick County Executive Jan Gardner said the county has worked to help people get vaccinated for COVID-19.
"Over 93% of people over the age of 65 and more than 80% of people over the age of 18 have received a COVID vaccine. Our focus on community health has paid off with Frederick County recognized as one of the nations healthiest communities in 2021," said Gardner.
She said the county came together to help distribute food to people in need during the pandemic.
"We can all be proud of the community collaboration known as Feeding Frederick which connects people with food resources and nutrition," she said.
Gardner said food was provided to over 80 distribution locations across the county.
She added that even during COVID, Frederick county experienced strong revenue growth and large employers are coming to the area.
"In May an Australian company called Ellume announced plans to open their first manufacturing facility in the United States, and do to that right here in our Route 85 business corridor. Over time, Ellume will add about 1,500 jobs," Gardner explained.
She said more money has been allocated to increase education in the county.
"I'm proud to have made a record investment of $21,500,000 in public education this year. Education is the path to future prosperity and is fundamental to our community's recovery from the pandemic," said Gardner.
She added that Frederick County Public Schools and Frederick Community College promoted a dual-enrollment program to help students achieve an associates degree while completing high school.