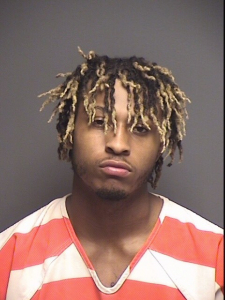 A representative from the State Medical Examiner's Office was called to testify.
Frederick, Md (KM) The second week of the trial of Ricky Cartnail, 17, began on Monday. The Frederick resident is charged as an adult with 1st-degree murder and other offenses in connection with the fatal shooting last year of Tykerria Dawson, 17, of Hagerstown. Her body was found in a wooded area in June, 2020, along Briargrove Court in the Ballenger Creek area.
State's Attorney Charlie Smith says a representative from the Office of the State Medical Examiner who did the autopsy of Dawson was called to the witness stand. "He stated she had three gunshot wounds to the head area. She had wound A was actually an entry to the right cheek belong the ear with no exit. This was the actual fatal injury in his estimation," says Smith.
And the representative from the Medical Examiner's Office said Dawson's body had signs of a struggle. "He did indicated also that there were additional injuries noted, bruising to her face, abrasions to the left of the neck. There were broken fingernails from her hands. And he believed these to be consistent with injuries sustained in a struggle," says Smith.
There were also two Maryland State Police scientists who took the stand. Smith says they are experts tin serology and DNA. "They talked about how they tested swabs from the defendant, the victim and the young lady who was raped. They also tested blood samples and multiple items that were submitted into evidence that were collected at the crime scene," says Smith.
"The young lady who was raped" testified last week, saying she saw Cartnail take a handgun out of a backpack, and place it in his waistband. She also heard the gunshots which killed Dawson.
The jury also heard from FBI Agent Michael Faller, whose an expert on cellular data collection. "He showed maps that demonstrated how the victim's phone actually moved from Hagerstown to Frederick late that evening. He also showed maps which demonstrated the movement from the defendant's address on Rooks Court to the Cut where the shooting happened," Smith says.
Trial is expected to resume on Tuesday.
By Kevin McManus