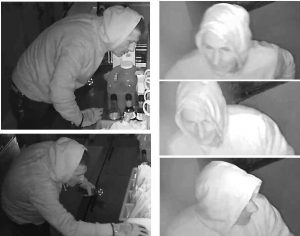 The suspect burglarized 3 different businesses in 3 days.
Emmitsburg, Md (NS) – The Frederick County Sheriff's Office is asking for the public's help in identifying a burglary suspect.
Surveillance photos show a male suspect in Chubby's Barbeque on Old Frederick Road in Emmitsburg who police say pried open a door, rummaged through drawers, and damaged a cash register.
Officials say that burglary happened on Saturday, December 4th at around 12:30 a.m and that the same suspect burglarized a gas station on North Church Street in Thurmont later that morning. The suspect is also believed to have burglarized a landscaping business in Frederick three days earlier.
Anyone with details on the suspect is asked to contact the Frederick County Sheriff's Office.