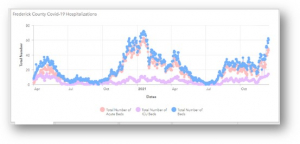 Local COVID-19 hospitalizations are up.
Frederick, Md (KM) Residents in Frederick County are advised to wear masks in all indoor public spaces regardless of their vaccination status. County Executive Jan Gardner says the county is experiencing a rapid rise in hospitalizations by 50% this past week due to COVID-19. The Health Department says as of Wednesday, there are 60 COVID patients in the hospital, 14 are in the I-C-U.
"Everyone needs to do their part to protect our loved ones and vulnerable people in the community," says Gardner in a statement. "I encourage churches and businesses to strongly consider requiring their visitors to wear masks during this busy time of year. Please wear a mask in indoor public spaces and if you haven't already, get your vaccine or booster shot. The winter surge is preventable if everyone would get vaccinated, tested, and follow health advisories."
The County Government will maintain its current status until April 4th of next year. That means all county facilities are open to the public by appointment only through the expanded winter surge. Visitors to county building, including public libraries and TransIT buses, are required to wear masks.
By Kevin McManus