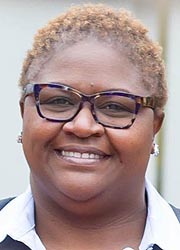 She represents District 2B in Washington County.
Annapolis, Md. (NS) – Republican Maryland Delegate Dr. Brenda Thiam does not approve of Maryland becoming a sanctuary state for illegal immigrants.
In a special session last week, The Maryland General Assembly overrode Governor Larry Hogan's veto of House Bill 16 that gives protection to illegal immigrants by keeping jails from detaining people for immigration reasons.
She said Maryland has gone through a long process of slowly moving in that direction.
"It doesn't happen very immediate as it seems, but it's like slowly but surely you work your way towards where we are now. This just didn't start yesterday," said Thiam.
She said some people want to help illegal immigrants because there are flaws with our immigration system.
"The immigration system is broken. I think clearly that it's something that all of us can admit," said Thiam.
She said Republicans don't dislike immigrants, but they just want legal immigration.
"When you do it (immigration) the right way, we applaud those people and support them," she said.
Thiam believes Democrats want to eventually have illegal immigrants vote for them in elections and that Maryland needs more Republicans to run for political office to keep things like this from happening.