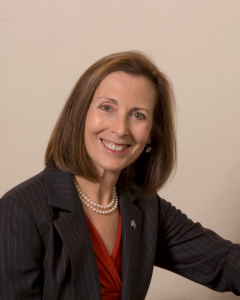 She said it will not turn Maryland into a sanctuary state.
Frederick, Md (KM) Frederick County Delegate Karen Lewis Young is one legislator who voted last week to override Governor Larry Hogan's veto of the "Dignity, Not Detention." The measure prohibits the state, county and local governments for entering into agreements to detain undocumented immigrants who commit crimes. It would also not allow privately run detention centers to house these undocumented immigrants.
Delegate Young says for her, it's personal. "My own grandfather came to this country as a refugee. He was smuggled out of Eastern Europe in the middle of the night with just he could carry on his back. And had he be caught, he would have been shot," she says.
In addition, Delegate Young says there was heightened anti-Semitism in the US at that time, and her grandfather, who was Jewish, owned a pharmacy which was set on fire. But Young says her grandfather worked hard, helped educate his children and made a good life.
She says her grandfather's struggles are similar to what today's immigrants are facing, and "I am here to help make it somewhat easier for people just like them."
Those who voted against override say it's important for any immigrant who comes to the US to do so legally. They're also concerned that local law enforcement will be unable to arrest undocumented immigrants who commit crimes and have them deported.
But Delegate Young says immigrant communities have less crime that the overall population. "And I don't think that somebody should be harassed or jailed just because of their immigration status,": she says. "I don't think for-profit prisons should be filled with people who maybe who had a headlight out."
"But what this bill does is correct some programs that financially thrive on arresting people for minor if not exaggerate infractions," Young continued.
The Frederick County Sheriff's Office has an agreement with the US Department of Homeland Security to detain immigrants. DHS reimburses the county for the costs of detaining these individuals. But the ceased detaining these immigrants in March, 2020 to reduce the risk of COVID-19. Sheriff Chuck Jenkins has always been a strong defender of the relationship with Homeland Security, specifically Immigration and Customs Enforcement. 287g allows Detention Center personnel to check the immigration status of those who are arrested. If they're here illegally, ICE is notified.
Governor Hogan says this law would make Maryland "a sanctuary state." . Delegate Young takes issue with that. "That is absolutely untrue. They are totally misinterpreting the law we just passed. That is inflammatory and it is intentional to cause fear in people," she says.
Young says there needs to be reform of the immigration laws on the federal level. "We should have a reasonable path toward citizenship just like we have done historically in this country," she said.
By Kevin McManus