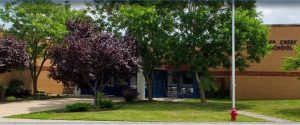 He said it was a joke.
Frederick, Md (NS) – A 13-year-old boy has confessed for making false threats against Ballenger Creek Middle School this week.
The Frederick County Sheriff's Office (FCSO) say he created a fake Instagram account where he posted threats against the school.
"Through the use of technology and working with social media providers, we quickly identified the user and immediately made contact, which led to the confession," said FCSO Lt. Jason Deater in a press release.
The juvenile told investigators that he did it as a joke.
He said he had no plans to shoot anybody and that he saw a challenge to make a false threat on TikTok.
Police searched the boy's room and found no weapons.
The Sheriff's Office has charged the youth with making threats of mass violence, making a threat of crimes of violence that would place five or more people at risk, misuse of electronic mail and disorderly conduct, or obstruction of activities and administration of classes.