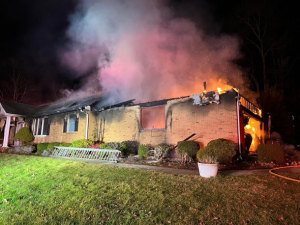 The cause remains under investigation.
Woodbine, Md (KM) Damage is estimated at $350,000 from a house fire last Friday night in Carroll County.
The Maryland State Fire Marshal's Office says fire fighters were dispatched at 9:28 PM to the 6600 block of Gigi Drive in Woodbine, and found a one-story, single family home with a detached garage on fire. 40 fire fighters and a tanker task force spent 30-minutes bringing the flames under control. An occupant refused treatment at the scene.
The Fire Marshal's Office say the fire originated in a vehicle parked in the garage, and was discovered by an occupant. The cause remains under investigation.
The home did have working smoke alarms.
By Kevin McManus