They claim it diminishes the rights of some Marylanders to be fairly represented.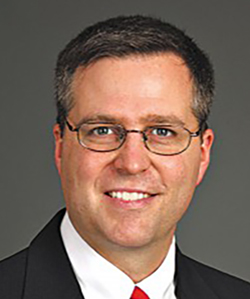 Delegate Neil Parrott
Frederick, Md (KM) A lawsuit has been field against the Stater of Maryland over the Congressional Redistricting Map approved by the General Assembly. Washington County Delegate Neil Parrott (R), whose one of 12 plaintiffs, announced the suit on Wednesday afternoon in front of Frederick City Hall. "It's divides communities, counties, unnecessarily,": he said. "We believe that it breaks the law of the Maryland Constitution.. We look at here in Frederick County: it divides it. There's no reason to have Frederick County divided. It's part of western Maryland. Carroll County should also be a part of the western Maryland counties."
Frederick County is currently divided between the 6th and the 8th Congressional Districts.
Republicans have complained that this new map, supported by Democrats, makes it more difficult for the GOP to win Congressional elections in Maryland. That's something Frederick County Delegate Jesse Pippy (R) brought up during the news conference.  "This map actually has an opportunity to exclude all Republicans from federal representation in our state which is egregious," he said. "About 40% of Marylanders actually vote for  Republican federal representatives in this state.",
Democrats have argued in states where Republican predominate, GOP legislators draw districts which favor their candidates.  Robert Popper, director of election law for Judicial Watch, said that doesn't make it right. "It is wrong. It is not balanced. Because it's done in other places or because the parties both do in different circumstances, that doesn't make it right," he said.
Judicial Watch, which describes itself as a "non-profit educational organization and America's government watchdog," has joined the suit. It wants the courts to throw out this map, and replace it with the one drafted by a commission set up by Governor Larry Hogan.
The Redistricting Map, approved earlier this month by the Maryland General Assembly, was vetoed by the Governor, but the Legislature immediately overrode that veto.
The Democrats in the General Assembly say this map was drawn to keep as many people as possible in their same congressional districts. They also say the new map keeps communities of interest intact.
Delegate Parrott said the Sixth District has been extended from mostly rural Garrett County down the Washington DC suburbs. "Why does it go to the Beltway? I'll tell you why. Because the current Congressman David Trone  doesn't live in the District. But in order to get him into the District, they had to go all the way to the Beltway which is what they did," he said.
Parrott is running for the Sixth Congressional District seat against incumbent Democrat David Trone.
After he vetoed the map drafted by the General Assembly, Governor Hogan noted that US Attorney General Merrick Garland is suing the state of Texas for its gerrymandered Congressional map. He asked that Attorney General Garland add Maryland to the lawsuit. Parrott says the Maryland map is more gerrymandered than the Texas map.
He also said he and the other plaintiffs are not going to wait for Attorney General Garland to decide whether to  add Maryland to the federal lawsuit against Texas. "I'm not sure Merrick Garland will do the right thing, and he would probably take it to federal court. I think it's time for us at the state level to take it state court and get this overturned right now," says Parrott.
By Kevin McManus