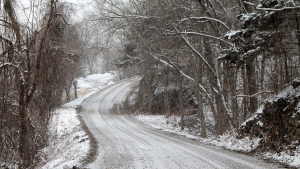 Motorists are encouraged to drive slowly when traveling on snow-covered roads.
Frederick, Md (KM) With the winter season well underway, it's important to remember a few safety tips if you must go out during the snow and sleet. Lt. Jason Deater with the Frederick County Sheriff's Office says it's better to stay off the roads to allow the snow plows and emergency vehicles to get through.
"If you do have to go to work, give yourself extra time and leave a little bit earlier," he says. "Stay aware of your surroundings. Know if there's bends in the roadway. And if it says 35-miles per hour, maybe you should be doing half that, especially if the roads are covered. And just keep a really good distance between you and other vehicles."
When driving during snow and sleet, motorists will no doubt see a plow. Lt. Deater says "don't crowd the plow." Give that driver plenty of room to maneuver. And be careful if you decide to pass a snow plow as they are pushing away ice and snow. "If you go by too fast, it could cover your windshield and reduce visibility," he says.
There's also the possibility of a crash while out driving in the winter precipitation. "If both vehicles are drivable, get them off the roadway. If there's a driveway to the right, pull them into a driveway as far as you can off the road," says Lt. Deater. "Other motorists who are driving might come up on you fast, or from a blind corner in a dip, and they could be part of that collision."
If you can't get off the roadway as quickly as you can, he says put on your vehicle's hazard lights, and try to warn other drivers.
Before the snow storm hits, Lt. Deater says make sure your vehicle is road-ready. That would include having a mechanic check your battery, and see if the windshield wipers are working efficiently, and checking and topping off the windshield wiper fluid.
During the winter, he says make sure that you have equipment in your vehicle such as an ice scraper, a small shovel, jumper cables, a flashlight with extra batteries, reflective triangles, flares, and some bright colored clothing. In case of an emergency. Because it may be a while before a tow truck or an ambulance can respond. Lt. Deater says have some non-perishable food, water and blankets in the car as you wait for help.
But says it's best to be ready before the winter storm hits. "If it's a forecasted event, if you know a blizzard is coming or a significant storm, prepare early. Get everything you need, extra food, extra supplies. That way you don't have to travel during the storm or immediately after," says Lt. Deater.
The Frederick County Sheriff's Office says it received more than 600 calls for service involving vehicles incidents from December 21st, 2019 through March 19th, 2020. During the past two winter seasons, the Sheriff's Office says it received over 200 calls for vehicle incidents.
By Kevin McManus