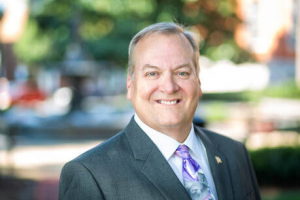 He says it's a way to slow the spread of COVID-19 and it helps the staff at FHH.
Frederick, Md (KM) A mask mandate is a "relatively minor accommodation : to deal with the public health aspect of the COVID-19 pandemic. That's according to Frederick County Chamber of Commerce President and CEO Rick Weldon.
He encourages all local residents who enter local establishments, such as stores, restaurants and entertainment venues to put on their masks to slow the spread of the coronavirus. "But overall I don't think a mask mandate is the worst thing in the world," he says. "And if it help us help our friends at Frederick Health Hospital–the nurses and the doctors and caregivers–I think that's probably the right step," he says.
Last week, the Frederick County Board of Health approved a mask mandate for indoor public places.
Weldon says he heard a lot of negative comments about the mask mandates. But he says companies are complying with the mask mandate so they can remain in operation. "Businesses, they're just following what the government is requiring of them," he says. "I don't think anybody ought to beat up a business if they ask you put a mask on. Just put on a mask if you're going go on in; be respectful. Recognize that it's a little sacrifice that we're all making right now to try to bring down the number of sick people that the hospitals are having to deal with."
If you don't like wearing a mask when going into a store, Weldon suggests you order your products on line.
During last week's meeting, the Board of Health discussed the possibility of holding another meeting to discuss whether to enact limitations on gatherings of 25 or more. Weldon says he will speak up at that meeting. "I think it's artificial. I think it doesn't really address the problem. I don't think it's backed up by science. On behalf of our members, I'll be expressing opinions on that," he said.
The Board of Health did not say when that meeting would be held.
By Kevin McManus