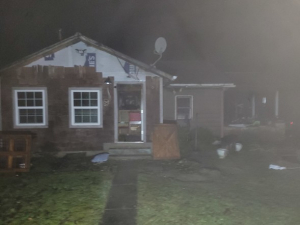 The cause is under investigation.
Kitzmiller, Md (KM) Damage is estimated at $150,000 from a house fire Saturday evening in Garrett County.
The Maryland State Fire Marshal's Office says just after 10:00 PM, , fire fighters responded to 203 East Main Street in Kitzmiller for a one-story, single family home on fire. They spent 15-minutes bringing the flames under control. No one was injured.
Investigators say the fire originated in a rear storage room.
The cause is under investigation.
The damage estimate includes the structure valued at $125, 000 and the contents which total $25,000.
By Kevin McManus