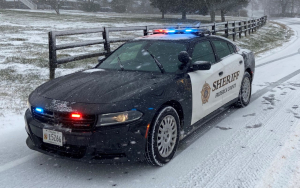 Deputies also make arrests for assault, weapons & drug offenses.
Frederick, Md (KM) The Frederick County Sheriff's Office reports one fatal traffic crash during the New Year's Day Weekend. At around 3:00 PM on December 31st, deputies were dispatched to the intersection of Good Intent Road and Houck Road in Union Bridge for a vehicle crash. A car operated by John Wesley Lieuallen, 75, of Frederick left the roadway, and struck a tree. Medics arriving on the scene tried to resuscitate Lieuallen, but were not successful. He was pronounced dead at the scene.
Also during the holiday period, the Sheriff's Office says it made several arrests, including two for weapons offenses. Daniel Batres, 20, and Daeante Sewell, 19, both of Frederick are charged with possession of a firearm, having a handgun on their persons, having a loaded handgun on their persons and having a handgun in a vehicle. Batres is also charged with drug possession and use of a firearm in a drug crime.
Also arrested were Michael Briggs, 52, and James Briggs, 32, both of Sabillasville, and Ryan Kelly, 31, of Frederick. All three are charged with narcotics offenses. The Sheriff's Office says James Briggs had additional charges placed for resisting arrest, obstructing and hindering, and possession with intent to distribute.
Another person arrested was Steven Springer, 44, of Emmitsburg. He's charged with 1-st and 2nd-degree assault, malicious destruction of property, disorderly conduct and reckless endangerment.
The Sheriff's Office also conducted 44 traffic stops during the New Year's Holiday Weekend. They include four for driving under the influence, 13 vehicle incidents, two hit and runs, and 19 arrests. During the 2020-2021 New Year's Holiday period, deputies conducted 68 traffic stops, with one DUI, 17 vehicle incidents, 12 arrests and nearly 760 calls for service.
Authorities say there were fewer calls for service during 2021-2022, but an increase in DUI arrests.
"As we start the new year off we want to remind our county residents to slow down, stop texting and driving, allow for safe distances and obey the rules of the road," says Sergeant Burt Ruppenthal, the Sheriff's Office Traffic Supervisor, in a statement. . "If we can get everyone to do this, 2022 should be a safer year for all."
By Kevin McManus