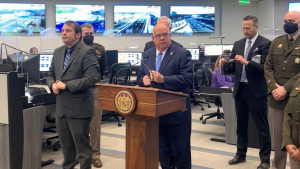 He briefed members of the Board of Public Works on Wednesday.
Annapolis, Md (KM) The national shortage of COVID-19 tests is impacting Maryland.  But Governor Larry Hogan told members of the Board of Public Works on Wednesday that the state is working hard on this problem. "And I just want to inform the Board in order to address this national shortage, we're currently working on numerous emergency procurements to deal with the multiple emergency  actions related to the crisis, including the acquisition of as many of  these rapid tests as we can acquire from multiple sources," he said.
He spoke to Board members prior to their meeting. The Board of Public Works consists of the Governor, Comptroller Peter Franchot, and State Treasurer Derek Davis.
On Tuesday, Governor Hogan declared a 30-day state of emergency to battle the surge of the Omicron variant of the COVID-19 virus, which has overwhelmed many hospitals around the state. He also issued an executive order giving the Maryland Secretary of Health the authority to regulate hospital personnel, bed space and supplies.
He also called up 1,000 members of the Maryland National Guard to assist state and local officials with the emergency pandemic response. 250 members of the Guard will be deployed to COVID testing sites around Maryland.
Governor Hogan told his colleagues on the Board of Public Works that state labs have determined that the Omicron variant is the dominate COVID variant in Maryland. "According to the University of Maryland's Institute for Genome Sciences, 88% of all recently analyzed samples tested positive for the Omicron variant," he said. "And of those samples that were hospitalized patients, 91% have the Omicron variant."
Hogan also says over the last 30 days 74% of COVID patients at the University of Maryland Medical System were unvaccinated, and 24% were considered fully vaccinated; just 2% of those patients received their boosters.
As of Wednesday, the Governor's Office reports 3,118 COVID-19 hospitalizations, which is 61 more from Tuesday.
The Governor encouraged all Marylanders who have received their COVID shots to get a booster, and to continue wearing masks in indoor public locations to help protect themselves, their families and friends from the coronavirus.
By Kevin McManus