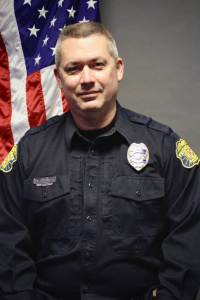 Frederick City Police Officer Greg Santangelo passed away December 28, 2021.
Frederick, Md. (NS-DG) The community gathered on Thursday to remember the life of Frederick City Police Officer Greg Santangelo.
He passed away on December 28th at Meritus Medical Center.
He lived a life dedicated to others.
After retiring from the Frederick County Sheriff's Office in 2013, he joined the Frederick City Police Department where he served on the training unit at the academy.
Police Chief Jason Lando said Santangelo was deeply devoted to the law enforcement profession and pushed his fellow officers to be better cops.
"The Frederick Police Department lost a special person last week. The Santangelo family lost a loving, devoted husband, father, brother," said Lando.
His sister, Karen, reflected on Santangelo's different stages in life.
"Chapters like becoming a Marine and serving in the 1st Gulf War and then starting a career and getting married. But it was when he became a father and a family man that I fell in love with him all over again," Karen said.
Following the service, Santangelo was laid to rest at St. Johns Cemetery in Frederick.
He leaves behind a wife, Sarah, and three children, Lauren, Melissa and Vincent.