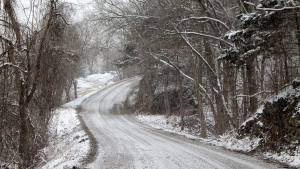 The MDOT SHA will work to keep the roads clear.
Frederick, Md (NS) – Winter weather is on the way tonight… and that means snow, slush, and ice.
Maryland State Highway Administration (SHA) community relations manager Charlie Gischlar said crews prepare before the weather moves in.
"If it's going to start out as snow, we can pre-treat in advance of the storm," said Gischlar.
He said salt brine is laid down to keep snow and ice from sticking to the roads.
"We have some very good technology on our side, cutting edge," Gischlar added.
He said more than 100 of SHA's trucks have infrared weather data systems to help storm planners manage their response.
Gischlar said roads.Maryland.gov is a resource for drivers to see road information during inclement weather.
According to SHA, before you drive in the snow, check your car's oil, battery, antifreeze, heater, and wipers.
By Nate Saunders