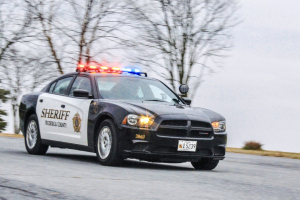 Nearby schools were placed on temporary 'lock out.'
Jefferson, Md (KM) A bank robbery in Jefferson on Monday afternoon remains under investigation.
State Police say they received a call at around 3:00 PM about a robbery at the Middletown Valley Bank in the 3800 block of Jefferson Pike. The Frederick County Sheriff's Office announced that schools in the area were on a temporary "lock out" due to a heavy police presence. That means the school buildings are to be secured when an emergency takes place outside of the school.
Authorities say the suspect is an African-American man wearing all black with a blue face mask and fur hat.
By Kevin McManus