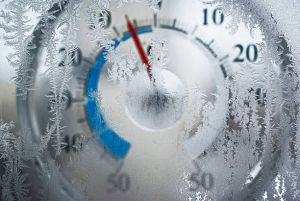 Residents urged to protect themselves from these frigid temperatures.
Annapolis, Md. (KM) – With temperatures expected to reach highs in the upper 20's on Tuesday, and dropping into the teens on Tuesday night, you need to protect yourself against this extreme cold, according to Dr. Clifford Mitchell, Director of the Environmental Health Bureau for the Maryland Department of Health.
"In cold weather it's definitely possible to find yourself in situations where you can get either tissue damage to your exposed tissue, like the fingers and the nose and the ears, etc., or lowering your core temperature which is called hypothermia," he says.
He says it's i important to recognize th signs of frostbite. "Frostbite can actually start off with a kind of a tingly sensation, or even a warm sensation, as even a warm sensation as your tissues start to get damaged from the cold," says Dr. Mitchell.
if you are outside during the extremely cold weather, he says it's especially important to protect your extremities. "Make sure you've got gloves on. Especially in cold weather like this to have nose your ears covered, the top of your head, anywhere you have exposed tissue," says Dr. Mitchell.
There are also signs that your body is being affected by hypothermia. "Where you're starting to shiver uncontrollably," Dr. Mitchell. "And especially if it's wet out, you want to be careful because the combination of wet plus cold makes you lose heat more rapidly."
If this happens, he says it's important to get into a warm environment.
Dr. Mitchell also says the cold temperatures can be especially hard on very young children, the elderly and those with compromise immune systems. He says it's important to check in on your neighbors, and vulnerable family members. "People who live in circumstances where they may not have access to a phone, where they are living by themselves, where they're older, if they've got chronic disease–anything that pre-disposes people to being at risk," says Dr. Mitchell. "It's what community is all about is looking in on our neighbors, looking in on our relatives."
The National Weather Service in Sterling, Virginia, which provides the forecast for our region, is calling for a high temperature of 26-degrees for Tuesday, and a low of 19-degrees for Tuesday night.
By Kevin McManus