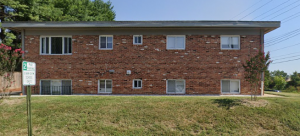 Frederick, Md. (RH) – A Frederick woman who spent thousands of dollars testing black mold levels in her apartment and even lost a family pet due to the poisonous spores, is speaking out.  
Jessica Johnson said she recently moved out of her residence located at 9 E. 15th street after an expensive and lengthy battle with the mold . Johnson told WFMD that she hired a private company to test the levels.
"The first test cost me $500 and the second test cost me $1,800," said Johnson. "My mom has been adversely affected by the mold. She was literally in-and-out of the hospital all last year."
Johnson blames the local property management company, NOAHS', for neglecting the problem. She said she sought help from the City of Frederick but was unable to get a response from the building code inspectors that she emailed.
"I reached out to them (city) for help because I performed the mold tests myself, out-of-pocket. At this point, I am frustrated and I don't know who to turn to."
Mold is a type of fungus. It is present almost everywhere, including the air. In general, normal amounts of mold in the environment do not pose a substantial health risk to healthy people with regular immune system function.