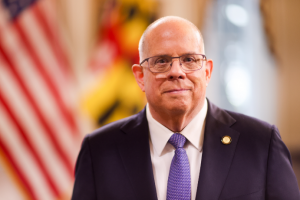 One would expand the Re-Fund The Police Initiative introduced last year.
Annapolis, Md (KM) Legislation to combat crime in Maryland is being proposed by Governor Larry Hogan.
At a news conference on Monday at the State House, Hogan announced the expansion of last year's Re-Fund The Police Initiative to three years at $500-million. The expanded initiative includes $220-million for "historic salary increases and bonuses" to help police departments around the state with recruitment and retention of officers, and make their pay more competitive. There's also $137-million for a 50% increase in state police aid to local jurisdictions, and $50-million for capital improvements tor Maryland State Police Barracks and a new tactical services building for the Special Operations Division. There's also $37-million to fully fund victim services providers. And the package includes $30-million for Neighborhood Safety Grants to support hardware upgrades such as lighting, cameras and increases in security services for community organizations, businesses, districts and main streets.
"Homicides and violent crime waves are surging in nearly every major city around the country," the Governor said. "And law enforcement agencies nationwide are struggling to attract qualified candidates as many current officers are retiring early, or simply choosing to leave the profession."
He also said past efforts to defund the police is not working, noting "even in the most progressive cities across the country, leaders are now following our lead and admitting that instead of defunding the police, they need more investment in public safety."
Hogan also said he will put forward emergency crime legislation "including the Violent Firearms Offenders Act of 2022 to significantly toughen penalties for those who commit crimes with guns, and who illegally possess guns as well as those who supply the illegal guns to violent criminals."
A second emergency bill would require the Maryland State Commission on Criminal Sentencing to track and publish detailed information on the sentences handed down by judges for violent crimes.
"Keeping Marylanders safe is our number-one priority," says Governor Hogan.
He called on legislators to "put politics aside" and join with his administration to pass these crime bills. "There can no more excuses and no more delays," Hogan said. "The time for action is now."
The 2022 Maryland General Assembly gavels into session on Wednesday, January 13th.
By Kevin McManus