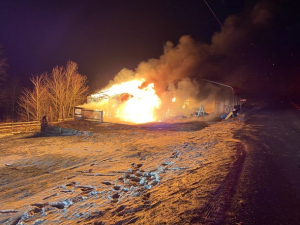 Damage totals $75,000.
Fire At 717 O'Brien Road, Swanton, Md. (From Md. State Fire Marshal's Office)
Swanton, Md (KM) No injuries are reported from a house fire in Garrett County Monday night.
The Maryland State Fire Marshal's Office says at around 8:51 PM, fire fighters were dispatched to 717 O'Brien Road in Swanton, and found a single-story manufactured home on fire. They spent 20-minutes bringing the flames under control.
Damage is estimated at $50,000 to the structure, and $25,000 to the contents.
The Fire Marshal's Office is investigating the cause and origin of the fire.
Authorities say the home was unoccupied at the time of the blaze. .
Anyone who has information on this fire is asked to contact the Maryland State FIre Marshal's Office at 301-729-5542.
By Kevin McManus