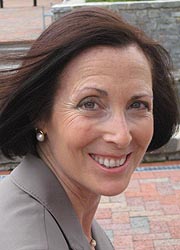 Frederick County Delegate Karen Lewis Young says she 'dropped' four bills on the first day.
Annapolis, Md (KM) The 2022 Maryland General Assembly Session got underway on Wednesday.
In past years, the first day was mostly an opportunity for legislators to socialize. But not this year, according to Frederick County Delegate Karen Lewis Young. "We have already dropped four bills because we want to get early hearings. So we're using the time that we normally spend on socializing with moving our legislation forward," she said.
One of those bills was passed last year by the House of Delegates, but didn't make it out of the State Senate. "It's a sexual assault bill which requires the state's attorneys to meet with survivors of sexual violence if the office chooses not to move forward with prosecution so at least the victim knows why," Delegate Young says.
Another bill would fund the 988 National Suicide Prevention Hotline which is scheduled to go into operation in July. "We know we've had a dramatic increase in suicides especially among our young people and this will be a dedicated hotline beginning July 1st," says Young.
A third bill deals with access to medications. "It allow pharmacists to administer Maintenance FTI medications so that patients have more options for accessibility for their treatment," says Delegate Young.
And a fourth measure would increase penalties for individuals who harass, threaten or assault health care workers and hospital employees, something which has been on the increase during the COVID-19 pandemic. "So many people are working under stress, long hours without adequate support and relief. The last thing we want is for them to harassed and threatened," she says.
During the session in Annapolis, Delegate Young says she wants to focus her energies on mental health, noting that the pandemic has not just affected our physical. health. "it's disproportionally affecting our young people, but also older people who are lonely and isolated, our veterans," she says. "We need more resources for mental health up and down the line."
She suggested part of the state's surplus be used to pay for mental health services.
Governor Larry Hogan has proposed a $4.6-billion tax relief package for Maryland families, small businesses and retirees. Young says she would be open to tax relief for those living on fixed incomes.
Delegate Young says the big issues lawmakers will face this year in Annapolis are paid family leave, recreational cannabis, climate change, family planning, ghost guns, tenants' rights and access to medical care.
By Kevin McManus