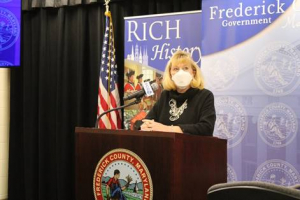 They would cover farmstands, data centers, modification of comprehensive rezoning.
Frederick, Md (KM) Farm stands and data centers are covered in some bills being proposed by Frederick County Executive Jan Gardner. At her public information briefing on Thursday, Gardner introduced legislation to support farmers who want to set up roadside stands to sell the produce and other products.
The legislation has two key points. "First, it allows value-added processing to take place on properties as small as ten acres instead of 25-acres that is currently required. This would permit owners of smaller parcels to process and package their produce for sale," Gardner says.
Under the second change, roadside farm stands smaller than 600-square feet would not need a permit, and stands of up to 1500-square feet would have an expedited review process.
"It does not change anything related to agri-tourism activities such as pumpkin patches, or pick your own produce," Gardner says. "Again, the goal is to simply to streamline the process for farmers to open their own produce stands."
Another proposed ordinance would cover data centers, which tend to be very large facilities. This measure defines design guidelines and criteria, such as lot sizes, setbacks, screening, landscaping and building heights. It would set limits on lighting and noise level, and require strict buffering standards; to limit how much a data center can be seen from roads and adjoining property. An architectural review board would be set up to make sure future development meets high standards.
Gardner says these facilities are permitted on land zoned light industrial and general industrial. "The goal is to direct data centers to areas where industrial uses and similar types of uses are permitted," she says.
"Last year, we welcomed Quantrum Loophole who announced plans to build an environmentally friendly data center campus on the site of the former Eastalco in Adamstown," she continues. "As this world-class date center campus is developed, it is our collective goal to work together to make sure that this development is done well."
The third proposed ordinance introduced by County Executive Gardner has to do with a number of properties which are undergoing comprehensive rezoning. Signs are often placed on these parcels to remind citizens about hearings on the proposed rezoning. . Gardner says her bill would not require signs be placed on each property undergoing comprehensive rezoning, but at intervals where they could be seen by the public.
"There's three pieces of legislation that I'm proposing that would ensure an open and transparent process for comprehensive rezonings; will establish strong design guideline for computer data centers; and streamline for farmers the process to set up roadside stands to sell their products," she says.
The County Council is expected to hold a workshop on these bills on January 25th.
By Kevin McManus