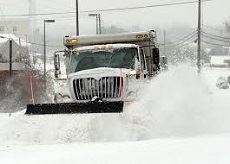 Salt can pollute waterways and harm aquatic life, says Maryland Dept. of the Environment.
Baltimore, Md (KM) – Salt has been used for many years to remove snow and ice from roads during winter storms. But it can also be harmful to waterways. That's according to the Maryland Department of the Environment. Secretary Ben Grumbles says salt can also  threaten  aquatic life.
He's praising the Maryland Department of Transportation State Highway Administration,. . "State Highway Administration is using technologies and alternatives to road salts to ensure public safety," Secretary Grumble says. "But also by reducing the amount of road salts, we reduce the risk to waterways and wildlife."
He adds. "With road salts, chlorides in water are not good when they're in excessive amounts. It can lead to fish kills and complicate water for drinking purposes."
Chloride in drinking water can add a salty taste, and corrode pipes, according to MDE. Salt can also destroy a soil's structure, and damage and kill vegetation. It can corrode metal bridges and motor vehicles.
"MDOT SHA follows best practices in terms of using less salt while maintaining safe roadways for our customers," says MDOT SHA Administrator Tom Smith, in a statement. "MDOT SHA and our contractors work together as partners to reduce overall salt use while keeping road safety as our highest priority."
MDOT SHA says it uses salt brine, a combination of 22% salt and 78% water, to lay on the highways prior to a storm to prevent snow and ice from sticking to the roads. It also uses the salt brine during winter storms. The agency employs "tow plows," where a single truck tows more than one plow, clearing more lanes of snow and ice.
But Secretary Grumbles says despite it's use of less salt than in the past, MDOT SHA still manages to keep roads clear of snow and ice. "We congratulate them for reducing the amount of salts almost in half over the last five years without compromising safety or mobility," he says.
By Kevin McManus