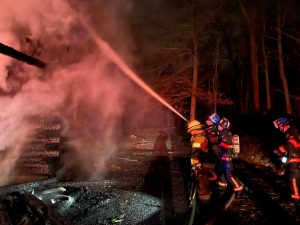 Investigators say the home is a total loss.
Wolfsville, Md (KM) The cause of a fatal house fire last week in Wolfsville has been labeled accidental. The Frederick County Fire Marshal's Office says the fire resulted from improperly discarded ashes on the front porch of the home in on Gambril Park Road.
The fire claimed the life of Frederick Casper Geiger, Jr, 82, who was the owner and occupant.
On Wednesday, January 12th, just before 7:00 PM, fire fighters were dispatched to the 10,000 block of Gambrill Park Road for a house on fire with entrapment. . They found the building fully involved in flames, and requested a Rapid Intervention dispatch and a tanker task force. It took them 75-minutes to bring the flames under control.
Geiger was removed from the home, and medics provided life-saving measures, but he was pronounced dead at the scene.
A cat also perished in the fire.
Investigators say the house is considered a total loss with an estimated damage of $500,000.
By Kevin McManus