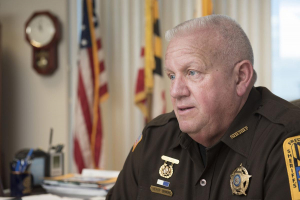 The report comes from the National Law Enforcement Officers Memorial Fund.
Frederick, Md. (NS/RH) – Frederick County Sheriff Chuck Jenkins is taking issue with a report released by the National Law Enforcement Memorial Fund that shows COVID as the leading cause of death for police officers in the line of duty in 2021.
He said the public does not hear about officers dying on a daily basis from shootings, assaults, accidents or other duty related illness, like 911 illnesses.
"I'm sure I'll be chastised for saying this but I'm not sure how you tie a COVID exposure to a direct line-of-duty," said Jenkins.
He said his agency is seeing about a 15% decrease in man power due to the current COVID surge, but the agency has taken steps to ensure the safety of the deputies.
"We tell our people when you're interacting with someone at their home stay outside if you possibly can, you know, keep a distance from people," Jenkins explained.
The report said deaths were up 55% from 2020.
In 2021, there were 301 officer fatalities identified as COVID related, 58 officers died in traffic incidents, 84 died in felonious assaults and 61 officers were killed by firearms.