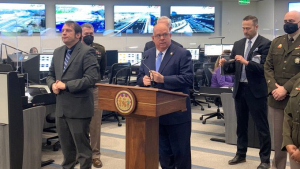 But he says we need to continue being vigilant.
Annapolis, Md (KM) – Cases of COVID-19 in Maryland are declining at the second fastest rate in the country, according to Governor Larry Hogan. At a news conference on Thursday at the State House in Annapolis, Hogan said the positivity rate has dropped by 40% since it peaked 15 days ago, and the case rate has dropped by 44% since it peaked 12 days ago. He said hospitalization rates for COVID have decreased for eight consecutive days, and that's both a decline in admissions and an increase in discharges.
"All of this progress is very encouraging, but we're not out of the woods," Hogan says.
He continues to urge Marylanders to be vigilant against this virus, by wearing a mask, practicing social distancing, and getting vaccinated and tested. "Even though we have been able to attain considerable drops in the metrics—and they're continuing to drop–they're still much higher than they have been, or where we need to be."
Right now, 93.9% of Marylanders are vaccinated against COVID and that includes 40% of those age 5 to 11. . He also encourages everyone whose not vaccinated to roll up their sleeves. The Governor is also asking parents to get their children vaccinated if they're between the ages of 5 and 11.
The Governor says the state will continue to take actions to combat the surge, noting that the Omicron variant is four to five time more transmissible than Delta and other variants. It remains the predominant strain in the state of Maryland.
At his news conference, Governor Hogan announced that he will be submitting the Health Care Heroes Act next week as an emergency bill. "That will codify some of the actions that we have taken to address workforce shortages at health care facilities: expediting licenses for retired health-care practitioners; practitioners licensed in other states; and nursing graduates," he says.
Hogan also said the state, along with the University of Maryland Medical System and Johns Hopkins University, have launched another antibody testing round in the state's nursing homes. "This study will help determine whether we move forward with a potential fourth dose for some of our most vulnerable residents," he says. "We hope that won't be necessary. But we will be prepared to take action if it is deemed necessary."
The Governor also announced that a 19th hospital-based testing site has opened at LifeBridge Health in Westminster in Carroll County. Other sites set to open are at the Greater Baltimore Medical Center in Baltimore County on Friday, and a federally supported site on Saturday at St. Agnes Hospital in Baltimore city.
By Kevin McManus