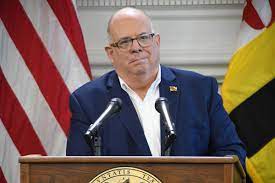 It does not include tax increases.
Annapolis, Md. (NS) – On Wednesday, Governor Larry Hogan held a news conference to discuss his proposed budget for fiscal year 2023.
Hogan emphasized investments in education, public safety, tax relief and other issues.
"This budget continues our commitment to expand access to early childhood education programs including $144-million to support full-day pre-k for 3 and 4-year-olds," said Hogan.
He proposed a record $8.15-billion investment into K-12 education.
"This budget also makes historic commitments to public safety. Our refund the police initiative includes more than $500-million to recruit and retain more quality officers," Hogan added.
He noted that in his 7 years as governor, he has never imposed a tax increase.
"With this budget we will also deliver more than $4.6-billion in tax relief for hard working families, retirees and small businesses. Which will bring the total tax relief delivered during our administration to $7.3-billion," explained Hogan.
He proposed eliminating income taxes for retirees over the next 6 years.
The budget was sent to the General Assembly where Hogan said he hopes for bipartisan collaboration.