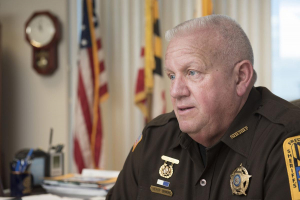 The county is required to create a board by July 1st.
Frederick Md. (NS) – Frederick County Sheriff Chuck Jenkins is reacting to the creation of a police accountability board for the county.
Last year, the Maryland General Assembly passed a law requiring counties to set up their own board by July 1st of this year.
Jenkins said the legislature does not realize the damage that this will do to law enforcement and that to County Executive Jan Gardner's credit, she did not want this laid in her lap.
"She's taken some input from myself and the local chiefs. So what I think we're going to have here in Frederick County is a pretty fair, down the middle accountability board," said Jenkins.
He said this portrayal of mistrust towards police will have a long term impact.
"So when young people see this, what's happening to law enforcement, they're not going to choose that as a career and it won't be long before there's no one left… or damn few left," Jenkins explained.
He said the creation of accountability boards was a knee jerk reaction in response to the murder of George Floyd in Minneapolis.