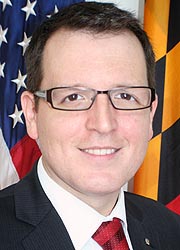 Justin Ready said the state can work with its large surplus.
Annapolis, Md. (NS) – During this year's General Assembly, legislation needs to be written to make Maryland a more affordable state to live in.
That's according to District 5 State Senator Justin Ready who said Maryland has a rare, large surplus in funds.
"We need to be looking at ways we can make Maryland much, much more affordable to live in for working families, for job creators, especially small businesses, and our retirees," said Ready.
He believes that can be done through helping private sector businesses succeed and providing tax breaks.
Ready said his job during the session is not just proposing legislature.
"I'm also watching out for bad bills, bad proposals that I think would be negative for our state. To me, that's actually the number one job of a legislator, is really watching to make sure we don't do something stupid," Ready said.
He added that a Democrat-backed State Legislative Map will be passed in the next week and he expects it to be challenged in court for gerrymandering.
This year's General Assembly ends on April 11th.