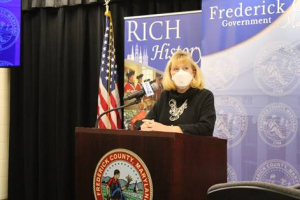 Some citizens say it's weighed too heavily in favor of local police.
Frederick, Md (KM) – The bill proposed by Frederick County Executive Jan Gardner to set up a police accountability board came  under criticism during a town hall meeting Monday night.
The legislation would establish a five-member panel which would receive complaints about police misconduct, hold quarterly meetings with law enforcement agencies to improve policing and present an annual report before the end of the year. It would also have four non-voting members who would be selected by local law enforcement agencies.
Mary Astadeo said this is a "bad bill." "The underlying problem is that board gives excessive power to police policing themselves, and undermines the community's ability to hold law enforcement accountable," she said.
The proposed ordinance also says "to the extent practicable, the membership of the Board shall reflect the racial, gender and cultural diversity of the County." But Nick DeSalvo said in order for that to happen, the board's membership needs to increase. "The Board is too small to adequately represent the diverse backgrounds of our county from the people in Frederick, from unincorporated areas, other incorporated areas," he said. "I suggest strongly that the size of the board is expanded."
Several recommendations include increasing it to nine member, or even 15.
Willie Mahone, representing the local NAACP, said he didn't like the way the bill was drafted. "Putting this bill together, there's a meeting with municipal leaders, and there's meetings with city chief of police. But there's not meetings with representatives from the community, and, specifically, with communities of color," he said.
The qualifications for sitting on the Board include being a county resident, and registered to vote. But Mahone being registered to vote would eliminate a specific population in the community. "And we know that a large portion of the Latinx community is not registered to vote. So what you're going to find is inherent an obstacle to have diversity on this committee," he said.
But many were worried about too much influence by local police agencies. "I believe that law enforcement being involved in this portion would allow for increased bias for police in a body that's supposed to hold them accountable," he says.
The proposed ordinance says active law enforcement officers cannot serve on the police accountability board.
Reading a list of its duties, Maria Dennis said it appears this police accountability board is powerless. "We'll have meetings to work with Frederick County Government and law enforcement agencies; they will review outcomes of disciplinary matters; they'll make recommendations on changes to policy. None of this sounds like they have any power to say 'this will change;' 'this has to stop;' 'this disciplinary action will be taken,'" she said.
County Executive Gardner took note that the size of the board needs to increase from five. She also said this bill is a draft and will likely change as it goes through the public hearing process, and is eventually adopted.
State law requires each Maryland county to have a police accountability board in place by July 1st.
By Kevin McManus