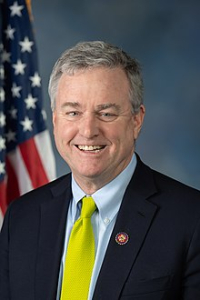 He spoke Wednesday to the Rotary Club of Frederick.
Frederick, Md (KM) – The storming of the US Capitol was one topic discussed by 6th District Representative David Trone (D) on Wednesday during a virtual meeting of the Rotary Club of Frederick. Following a question about whether the House committee investigating the January 6th, 2021 rioting should subpoena witnesses. Trone responded that the panel will enforce it subpoenas. . He said we all need to find out what happened that day.
Trone also recalled where he was on January 6th of last year. "We heard the people banging on the doors. We were escorted out. We put on our gas masks. I lived through that," he said. "We all went to the same secure room, and the Republicans and Democrats, we were in this together. And the Republicans in the room were clear: we need to stop this insurrection, and the President needs to call this off."
Members of Congress were assembled to certify the 2020 election results when the mob stormed the Capitol. This followed a speech by then-President Donald Trump where he urged the crowd to take back their country. He eventually told his supporters to leave the Capitol and return home.
Trump continues to claim falsely that he won the election, and voter fraud robbed him of the victory.
"We could very well have had a coup which is pretty scary in my mind," Trone said.
Trone also brought his message of working together in a bipartisan manner in Congress to get things done for the American people. He also said legislators need to think about how their actions affect future generations. "People can work together, have compassion for those that are suffering, and think long term. That 's what we got to do in government and they're terrible at it. They don't think long term. We as business and we as family members think long term."
One Rotarian asked Representative Trone about the need for a third party to compete with Democrats and Republicans. "I think we need a third party right in the middle. And that would probably be a damn good thing," he said.
But that won't be easy to achieve. "The two-party system in the US is so horribly entrenched. It's a real tough nut to move," he says.
Although a Democrat, Trone has talked about how he works with both his party and the Republicans to come up with solutions for problems such as drug addiction, mental health and reforming the criminal justice system.
Trone also addressed some other issues. "I support term limits, and getting people to serve and leave. Those are good things. But I think it's difficult. We got to get rid of gerrymandering," he said. "The Democrats, we do it. The Republicans, they do it. And it's bad for everybody."
He also says he supports making election day a holiday. Trone encourages Americans to be well informed about the issues and read up on them. . "Democracy takes work and we got to work hard,": says Trone.
Due to the COVID-19 pandemic, the Rotary Club of Frederick held their meeting through Zoom.
By Kevin McManus